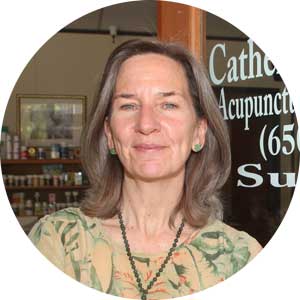 A Bit About Catherine Burns,
L. Ac., 14th Generation Emei Qigong Master
I moved to San Francisco in 1984 to pursue a career in Fine Arts after having won awards for documentary photography of Egypt, Europe, and Greece. In 1985 I was introduced to Tai Qi Chuan and Qi Gong. After six months of diligent practice and doing specific Tai Qi movements, I felt a bolt of lightning through my hands. My teacher described this as Qi, and from that moment I knew I had to learn every aspect of this phenomenon.
During this time I was "adopted" by a 90 year old Chinese man I fondly call Pop. He would cook with herbs and explain that certain herbs were taken in the fall to prevent colds and flu in the winter, certain herbs taken now would prevent arthritis later in life, and so on. Pop was seeing an acupuncturist in San Francisco Chinatown, so I decided to try this ancient modality for my own health. Some people have a calling, and I felt Traditional Chinese Medicine was shouting for me. In 1987 I was accepted to the San Francisco College of Acupuncture.
In 1996 I took a Continuing Education Class with Medical Qi Gong Grandmaster Fu Wei Zhong. Under his tutelage and guidance, I became a disciple in 2000, and travelled to his monastery on Emei Mountain in China in 2002.
My passion for Acupuncture, Herbal Medicine, and Qi Gong permeate every aspect of my life. I have been working with Stanford University and the National Institute for Health since 1999. In the Spring of 2003, I was invited to participate inongoing studies in conjunction with Harvard University and a major hospital in Beijing.
I also teach Qi Gong and Self-Healing techniques for people to be proactive in their health.